10.

Live uitzenden - Begin uw eigen internetradio

Met live uitzending in Mixxx kun je je mix via het internet naar luisteraars over de hele wereld streamen.

Zie ook

Het microfoons hoofdstuk bevat gedetailleerde instructies voor het opnemen van input van microfoons in uw uitgezonden mixen.
10.1.

Streaming-servers
Remote streaming-server

Mixxx allows you to feed your audio stream directly to Shoutcast and Icecast streaming servers. Depending on the number of listeners, streaming audio requires a significant amount of bandwidth. Streaming servers provide the required bandwidth and broadcast the stream to your listeners.

Mixxx als client-side streaming bron die uitzendt naar een externe streamingserver

Lokale streaming server

Voor ervaren gebruikers kan het interessant zijn om een eigen lokale streamingserver op te zetten. Dit verandert je eigen computer in een radiostation en luisteraars maken rechtstreeks verbinding met je server. Mixxx als streaming bron hoeft niet op dezelfde computer te draaien als je streamingserver. Professionele stations draaien de streaming bron echter vaak op dezelfde computer als de streaming server om redenen van stabiliteit en betrouwbaarheid. Houd in gedachten dat als je audio wilt streamen naar een aanzienlijk aantal luisteraars, je voldoende bandbreedte nodig hebt. Lees de Shoutcast documentatie of Icecast documentatie voor server setup instructies.

Mixxx als client-side streaming bron die uitzendt naar een lokale streamingserver
10.2.

Mixxx configureren

Begin met Mixxx te voorzien van alle informatie die nodig is om een verbinding met de streamingserver tot stand te brengen:
Open Voorkeuren ‣ Live Uitzending.

Voeg de instellingen in volgens de beschrijvingen in de voorkeuren-live-uitzenden

Klik OK

Ga naar :menuselection: Opties –> Live Uitzending Inschakelen of gebruik de Application shortcuts om het uitzenden te starten.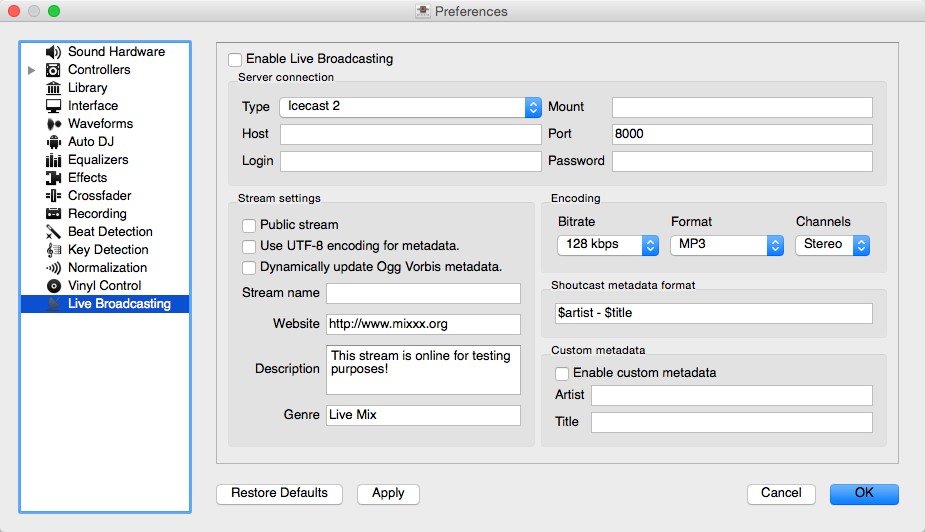 10.3.

Probleemoplossing
If you have trouble connecting to your streaming server, check the configuration in the Mixxx-voorkeuren - Live-uitzendingen instellen.

You may have selected the Ogg Vorbis format that is unsupported by Shoutcast servers.

You may need to check your firewall settings. Both Icecast and Shoutcast use two ports. If you are streaming on a port (for example, port 8000) then you need to open up the next port (port 8001) as well.

You may need to configure port forwarding if you are behind a router or your router will block requests to your streaming port (for example, port 8000)