3.

The Mixxx User Interface

Benvingut a la interfície del Mixxx. Aquí és on es fa màgia. Segurament voldreu familiaritzar-vos molt amb aquesta interfície perquè és la principal manera d'utilitzar-lo. En aquest capítol, us presentem la interfície per defecte del Mixxx i en descrivim els elements, rodetes i controls deslliçants.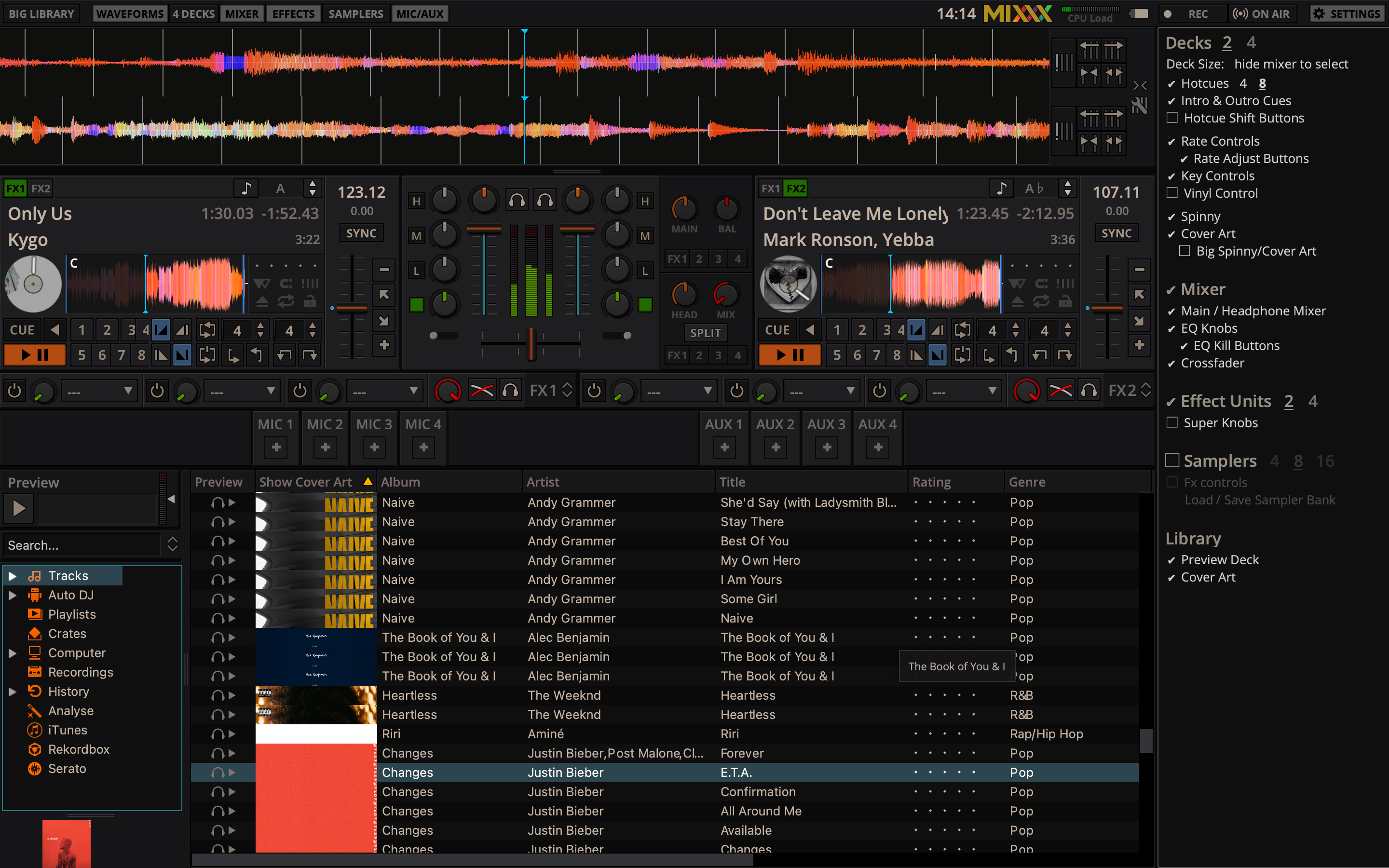 This is the LateNight skin, PaleMoon color theme. It is the default skin supplied with Mixxx 2.3. There are a variety of other skins included with Mixxx. You should explore them all to figure out which one you prefer. This section will focus on LateNight only, though all Mixxx skins provide most of the controls described here.
3.1.

Skin Settings

On top, and on the right side of the user interface are the section expansion buttons and options.
The GUI section quick toggles buttons in the top tool bar
If you click on either WAVEFORMS, 4 DECKS, MIXER, EFFECTS, SAMPLERS or MICS & AUX then you will enable control sections for interacting with:
Podeu també utilitzar les Application shortcuts.
Click the SETTINGS button or gear icon (depending on the skin) to open the skin settings menu. This provides common basic controls as well as some skin-specific options.
The Skin Settings menu on the right
3.2.

Decks

The deck section comes in three sizes: Full, Compact and Mini. You can switch between any of the three sizes by clicking on the Settings button or the gear icon. Under the Decks section, click on «hide mixer to select». This will automatically select the Compact deck (underlined and bolded). If you wish to change to a different deck size, you can choose FULL or Mini.
Suggerència
Hiding the mixer will by default switch to the compact decks.
La secció dels plats us permet controlar tot el que fa referència al tocadiscs virtual, que anomenem plat. La dividirem en diferents elements.
3.3.

Mixer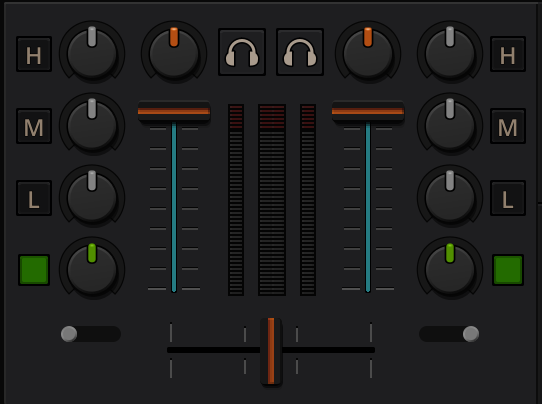 La secció del mesclador de la interfície d'usuari del Mixxx permet controlar com els diferents plats i reproductors de mostres es mesclen entre ells.
Monitors de nivell i controls lliscants del canal
Monitors de nivell

The left meter shows the volume level for the left deck, while the right meter shows the volume level for the right deck. The double meter at the center shows the current volume of the main output's left and right channel separately. These should stay at the top of the green region, with the loudest parts of the music (transients) briefly going into the yellow region. They should never be in the red region. Refer to Setting your levels properly (gain staging) for more details.

Control de volum del canal

Els dos controls lliscants llargs a cada costat dels monitors de nivell són els faders de volum dels plats, també coneguts com a faders de canal o de línia. Serveixen per ajustar el volum de cada plat.

Suggerència

Alguns DJs prefereixen utilitzar els controls de volum en comptes del crossfader per a canviar de volum entre les pistes. Proveu-ho, potser us agrada.
Equalitzadors i rodetes de guany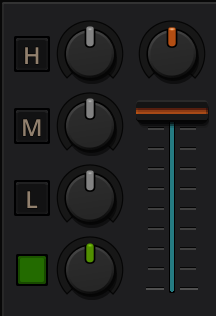 Rodeta de guany

The gain knob (orange) above the volume fader allows you to adjust the gain applied to the deck. Use this to compensate for the differences in recording levels between tracks. In general, you should adjust this knob so that the track's level meter stays around the top of the green region with the loudest parts of the track (the transients) briefly going into the yellow region. Do NOT turn the Gain Knob up so much that the level meter is in the red region. At this point the track is clipping, which sounds bad and could damage equipment.

Nota

By default, Mixxx automatically applies an additional ReplayGain so tracks have approximately equal loudness at unity gain. Your tracks must be analyzed to take advantage of this feature. When an unanalyzed track is loaded, Mixxx calculates its ReplayGain value, but will not apply a newly calculated ReplayGain value to a track after it has already started playing (to avoid a sudden change in the gain of a playing track).

Rodetes d'EQ

The low, mid, and high EQ knobs allow you to change the filters of the audio. This allows you to selectively reduce or boost certain frequency ranges of the audio.

Botons d'eliminar

Les capses petites al costat de cada rodeta d'EQ són els kills. Manteniu premuts aquests botons per eliminar completament el rang de freqüències corresponent. Si feu un clic ràpid, es quedarà activat, i es tornarà a desactivar si torneu a fer clic. Si els botons de kill no funcionen adequadament, comproveu les opcions de EQ high/low shelf a les preferències.

Quick Effect Super knob

This knob lets you control the Meta knob of the deck's Quick Effect. "Filter" is the default. Right-click this knob to center it. This is equivalent to "no audible effect" for the built-in filter effects only (Filter, Moog Ladder 4 Filter). The button next to the knob toggles the effect. It provides the same latching capabilities like the EQ Kill switches.
Vegeu també
Podeu personalitzar les opcions de EQ a Preferències ‣ Equalitzadors.
Crossfader

El crossfader determina el volum de cada plat movent el control d'esquerra a dreta. Si els dos plats estan reproduïnt i el crossfader està al mig, escoltareu tots dos plats. Feu clic amb el botó dret per tornar el control a la posició per defecte.
To move the crossfader left or right, you can use the keyboard shortcut G and H. To apply small crossfade left and small crossfade right, the shortcuts are Shift + G and Shift + H respectively.
Podeu invertir la configuració del crossfader, fent que per escoltar el plat dret s'hagi de posar el control a l'extrem esquerra i viceversa. Això es coneix també amb el nom en anglès «Hamster style». Per canviar-ho aneu a Preferències ‣ Crossfader.
The crossfader orientation switches determine to which side of the crossfader the deck is assigned. It can be set to the left or right side, or to the center where it is unaffected by the crossfader knob.
Suggerència
Si feu anar el DJ Automàtic del Mixxx, podeu automatitzar el crossfading entre plats.
Headphone and Main Mix Controls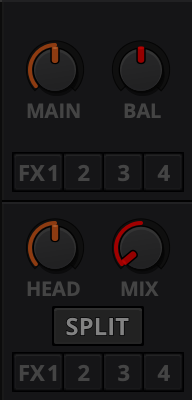 Headphone Mix knob

Allows you to control how much of the Main output you hear in the Headphones output. It works like a crossfader between the stereo Main and stereo PFL signal. If the knob is set to the left, you only hear the PFL signal, which is the usual position for prelistening tracks.

This can be used to practice DJing with only one stereo output and a set of either speakers or headphones.

Additionally, this can be used to mix in headphones when you cannot hear the speakers connected to the main output and there are no booth monitor speakers. Some DJs prefer to use this knob to mix in headphones all the time, but many find it to be a difficult way to play. If there is only one set of speakers and no booth monitors, you can avoid the need to mix in headphones by setting up the speakers behind you so both you and your audience can hear them.

Nota

No oblideu activar el botó Auriculars al plat que voleu escoltar pels auriculars.

Head knob (Headphone gain)

This knob controls the gain applied to the headphone output signal that Mixxx sends to your sound card. Generally, this knob should not be adjusted. To adjust the volume in your headphones, adjust your sound card's gain on the headphone output. Most external sound cards have a gain knob specifically for the headphone jack. If you use an onboard sound card for your headphones, adjust the gain control in your OS mixer program. If your sound card only has one gain knob that controls both the Main output and the headphone output, then adjust the Head knob in Mixxx to control the volume of your headphones without affecting your Main output.

Nota

Not all controls may be present in all skins anymore. However, these controls can be mapped to keyboards and MIDI controllers. See Mixxx Controls for detailed information.

Headphone Split Cue button

If activated, two mono signals are sent to the headphone output instead of one stereo signal. The main signal plays in the right channel, while the cueing signal plays in the left channel. You can still adjust the Head Mix knob to control the mix of the Main and cue signals in the left channel.

Rodeta de balanç

This knob allows you to adjust the balance (left/right orientation) of the Main output.
Main Knob

The Main Gain Knob controls the gain applied to the Main output signal that Mixxx sends to your sound card, Internet broadcasting servers, and recorded mixes. Generally, this knob should not be adjusted. To change the output volume, a gain control should be adjusted as close to the speakers as possible for the best signal-to-noise ratio throughout your signal chain. Ideally, the volume would only be adjusted by adjusting the gain on the power amplifier. On active speakers, including computer speakers, studio monitors, and PA systems that do not require a separate amplifier, this means adjusting the gain on the speakers (which may be labeled «Volume»).

As a DJ, you may not have access to the power amplifier. In that case, adjust the volume by adjusting the gain on the equipment closest to the power amplifier that you have access to. Typically, this is a DJ mixer. If you are not going through a mixer, adjust the gain of your sound card. If your sound card does not have any controls on it (for example, for sound cards built into computers), adjust the sound card settings with your OS mixer program. The Main Gain Knob in Mixxx should be a last resort for adjusting volume.

Avís

Sota cap circumstància hauríeu de permetre que la senyal saturi en algun punt. Això passa quan un monitor de nivell entra a la zona vermella, o quan s'ilumini un LED que tingui l'etiqueta «clipping».
3.4.

Samplers


Els reproductors de mostres són com plats en miniatura. Permeten reproduir mostres curtes i «jingles», o si voleu, també més pistes. Tenen un petit gràfic d'ona de la pista completa i un nombre limitat de controls. Tots els controls funcionen com als plats, veieu Decks.
The Sampler section can be hidden in the Mixxx user interface. Click the SAMPLERS button at the top of the user interface, or use the specific Application shortcuts to show or hide the section.
Gràfic d'ona de la pista
Gràfic d'ona de la pista

El gràfic d'ona mostra les diferents marques de la pista, així com l'envolvent de tota la pista. En fer clic en el gràfic, es pot saltar a aquella posició de la pista.

Marques del gràfic d'ona

Mentre es mescla, poden aparèixer més marques als gràfics d'ona:
Marca de posició: Una línia vertical indica la posició de reproducció de la mostra.

Marca de hotcue: Indica la posició i número d'un punt hotcue, si n'hi ha.
Visualització de la informació de la pista
Artista/Títol de la pista

Mostra el nom de l'artista i títol de la pista que s'ha carregat al reproductor de mostres.

BPM (Tempo)

El número a la part superior dreta és el BPM efectiu de la pista. Feu clic a sobre per canviar el valor al ritme que marqueu.
Controls del reproductor de mostres
Botó Reprodueix/Pausa

En fer clic en aquest botó sempre comença la pista des del punt Cue. Si està reproduïnt, saltarà al punt cue. En fer clic amb el botó dret, la reproducció s'aturarà i tornarà a l'inici de la mostra.

Botó Sync

Sincronitza el reproductor de mostres amb un plat, segons es descriu a Controls de sincronia i velocitat.
Clic esquerra: Canvia la velocitat de la pista de manera que el BPM i la fase coincideixi amb la del plat amb el que es sincronitza.
Controls Hotcue

Per a saltar a diferents parts de la mostra, es poden utilitzar els botons numerats de hotcue.

Botó escolta prèvia

Si està actiu, permet escoltar prèviament la pista pels auriculars.

Rodeta de guany

Permet canviar el guany que s'aplica a una pista.

Monitor de nivell

Indica el nivell de la senyal i pot ajustar-se amb la rodeta de Guany.

Control lliscant de velocitat

El control lliscant permet canviar la velocitat de la mostra. Feu clic amb el botó dret al control per a reiniciar-la al valor original.
3.5.

Effects


Mixxx comes with some built in sound effects that can be chained together in effect units. Effect units can be freely assigned to different decks as well as other inputs. The buttons for routing decks to effect units are in the Decks.
Vegeu també
The Efectes chapter has a more detailed explanation of the effects system.
3.6.

Microphones & Auxiliary Inputs

The microphone section is hidden in the default Mixxx user interface. Click the MICS & AUX button at the top of your user interface, or use the specific Application shortcuts to show or hide the section.
Vegeu també
The Utilitzant micròfons chapter has detailed instructions for setting up microphones with various hardware.
Controls de micròfon
Botó per parlar

Hold this button and talk to mix the microphone input into the Mixxx Main output. Short click on the button for latching. This is handy for talking for an extended period, for example when streaming a radio show. When in Latch mode, click again to mute the microphone input.

Commutador d'orientació de la mescla

Aquest control determina la destinació de la mescla de l'entrada de micròfon. Ja sigui al canal esquerra del crossfader, al canal dret, o al centre (per defecte). Feu clic múltiples vegades per canviar entre les diferents possibilitats.

Monitor de volum de micròfon

Aquí es mostra el nivell de volum de l'entrada de micròfon.

Rodeta de guany el micròfon

Utilitzeu aquesta rodeta per ajustar el guany de la sortida del micròfon. Intenteu mantenir el volum a un nivell raonable per evitar que la senyal es saturi.
3.7.

Preview Deck

The Preview Deck is a special deck that allows you to pre-listen to tracks in the headphones before using them in your mix. Pre-listening to a track does not change its Played state as well as the play counter and is not logged in the History. Press CTRL + 4 (Windows/Linux) or CMD + 4 (Mac) to display the Preview Deck.
Les característiques en detall:
Track Artist/Title: The artist and title of the track is displayed here. This is the same as that listed under the Track and Title column heading in the Mixxx library. This information is initially loaded from the track's metadata.

Eject Track button: Clicking this button ejects the track from the deck.

Play/Pause button: Clicking the button starts and pauses the playback. Right-clicking on the button will stop playback and seek the play position to the beginning of the tracks.

Gràfic d'ona de la pista: Mostra diferents marques (punts Cue, Hotcues) de la pista això com l'envolvent de la pista sencera. Feu clic en qualsevol lloc per a anar a aquell punt de la pista.

Gain slider: Move the slider to adjust the gain of the track.

Volume Meter: Shows the current volume of the track. If it's too loud and distorted, a peak indicator flashes red.