2.

Commencer¶
2.1.

Installing Mixxx¶

After downloading Mixxx from our Website, you need to install it on your computer.
Windows

Double-click the Mixxx installation file and go through the installation wizard.

macOS

Double-click the Mixxx .dmg file and drag the Mixxx icon to your Applications folder.

GNU/Linux

No steps are necessary after you follow the instructions on the download page.
2.2.

Upgrading Mixxx¶

You may safely install Mixxx on top of any previous version. You don't need to uninstall the old version.

Your settings and library will not be removed or reset, but they may be upgraded when you launch the new version of Mixxx. Note that we do not guarantee that new configurations will work on older versions of Mixxx, therefore you may want to make a backup of your existing settings just in case.
Windows

Mixxx settings are in %LOCALAPPDATA%\Mixxx, which is usually something like c:\Users\<username>\AppData\Local\Mixxx. If you have trouble finding this folder, see these instructions.

macOS

Mixxx settings are in /Users/<username>/Library/Containers/org.mixxx.mixxx/Data/Library/Application Support/Mixxx

GNU/Linux

Mixxx settings are in /home/<username>/.mixxx
Copy this directory to a backup drive or somewhere else on your system to make a backup of your settings.
2.3.

Lancer Mixxx¶

Once you've installed Mixxx, start by opening Mixxx and importing your music to the Mixxx library.
Windows

Double-cliquez sur l'icône Mixxx sur votre bureau. Vous pouvez aussi naviguer dans le menu démarrer de Windows et cliquer sur l'icône Mixxx, ou faire une recherche du fichier Mixxx.exe.

macOS

Double-cliquer sur l'icône Mixxx dans le dossier Applications. Sinon, faites glisser l'icône Mixxx dans le dock et double-cliquer dessus ou chercher mixxx dans Spotlight.

GNU/Linux

Cliquer sur l'icône Mixxx dans le menu des applications ou le lanceur de votre environnement de bureau ou effectuer une recherche sur mixxx. Sinon, taper mixxx dans le terminal, puis appuyer sur Entrée. Si votre interface audio n'est pas accessible depuis Mixxx car elle est utilisée par d'autres applications via PulseAudio, vous pouvez fermer et redémarrer Mixxx à l'aide de la pasuspender mixxx. Voir Launching Mixxx from the Command Line pour un aperçu des options de ligne de commande de Mixxx.
2.4.

Importer vos fichiers audio¶
La première fois que vous exécutez Mixxx, on vous demande de sélectionner un répertoire dans lequel votre musique est rangée. Par défaut, la boîte de dialogue pointe vers un emplacement dans lequel les fichiers musicaux sont typiquement rangés, mais vous pouvez choisir n'importe quel emplacement sur votre ordinateur.
Cliquer sur Sélectionner le dossier et Mixxx va examiner votre bibliothèque musicale. Ceci peut prendre du temps en fonction de la taille de votre bibliothèque. Tous les fichiers musicaux pris en charge que Mixxx détecte seront listés dans Pistes - Voir et éditer toute votre collection..
SI vous voulez rafraîchir votre bibliothèque (par exemple parce que vous avez ajouté ou déplacé des fichiers), vous pouvez le faire avec Bibliothèque ‣ Réanalyser la bibliothèque dans le menu. SI vous souhaitez réanalyser la bibliothèque à chaque démarrage, sélectionnez Préférences ‣ Bibliothèque ‣ Réanalyser la bibliothèque au démarrage.
Avertissement
Sur Windows 7 et 8, la boîte de dialogue d'import pointe vers votre bibliothèque Windows "Musique", un dossier virtuel dédié. Vous ne pouvez pas utiliser ces dossiers virtuels. Utilisez plutôt un dossier classique, habituellement "Ma Musique", comme vu ci-dessus.
2.5.

Analyser votre librairie¶
Mixxx automatically analyzes tracks the first time you load them in a deck. This allows you to run beatgrid, key, and ReplayGain detection on tracks in advance. It also prepares the waveform overviews, detects file corruption, and calculates the BPM values.
Why you should analyze your audio files¶
If the tracks have never been played with Mixxx before, the library columns BPM, Duration and Key will be empty or unreliable (because the values are just read from the file's tags if present and might be wrong). Pre-generating beatgrids gives you the chance to double-check the beat markers to make sure they are correct. Errors in beatgrids can cause difficulty when syncing tracks. Furthermore, track analysis takes considerable CPU power and might cause skips in the audio — things you surely don't need while performing.
How to analyze your audio files¶
Once you have imported your music library, press OK on the Preferences window.
Go to the Analyze view on the left side panel of the library.

To analyze a few specific tracks, hold down the Ctrl button, and select the tracks that you want to analyze or you can shift-select a range of tracks. Once they've been highlighted, click the Analyze button on the top right of the library section.

To analyze the newly added tracks, toggle the New label and then click Analyze.

To analyze the entire library, toggle the All label and then click Analyze.

The New and All toggle buttons are located at the top left of the analysis pane - just above the Preview and Cover Art column titles of the library.
While analyzing, the progress in percentage and total queue length are shown.
2.6.

Configuration de l'entrée et de la sortie audio¶

Avant de pouvoir utiliser Mixxx, vous devez configurer Mixxx pour utiliser votre matériel audio dans Préférences -> Matériel sonore. Vous n'avez pas besoin de configurer toutes les entrées et sorties.

Le chapitre Matériel DJ explique les différents types de matériel DJ et comment les configurer avec les options d'entrée et de sortie. Pour que Mixxx fonctionne le mieux possible sur votre système, configurez les autre préférences Matériel sonore en plus des entrées et sorties.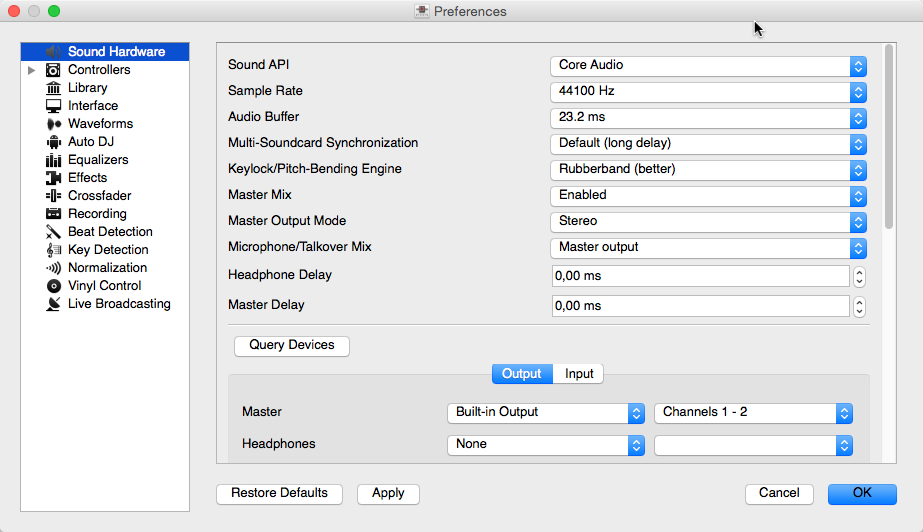 Options de sortie¶
Mixage interne:
Utiliser ces sorties si vous n'utilisez pas de external hardware mixer. Si vous utilisez un contrôleur avec une interface audio intégrée, utiliser ces sorties.
Main: all decks, samplers, microphones, and auxiliary inputs mixed together. This output is sent to the speakers for the audience.

Casque: toutes les platines, échantillonneurs, microphones et entrées auxiliaires affectés à pre-fader listening

Booth: same as main output, but has a separate gain control
Mixage externe:
Platines 1-4: les platines non mixées individuels à envoyer à une table de mixage externe

Bus Left/Center/Right: all decks, samplers, and auxiliary inputs assigned to each side of Mixxx's crossfader
Options d'entrée¶
Mixage interne:
Utiliser ces entrées si vous n'utilisez pas de table de mixage matériel externe. Si vous utilisez un contrôleur avec une interface audio intégrée, utilisez ces entrées.
Microphone 1-4: entrées micro de direct ou instrument de musique

Auxiliaire 1-4: autres sources sonores
Mixage externe:
Record/Broadcast: When this is configured, Mixxx will record and broadcast from this audio interface input instead of the internal main output mix. If you have a microphone plugged into the mixer, do not configure the Microphone 1-4 inputs.
Mixage interne ou externe:
Contrôle Vinyle 1-4: entrée de timecode à partir de platines vinyles ou CDJ pour manipuler les platines 1-4