3.

The Mixxx User Interface

Bem-vindo à interface do Mixxx. Aqui é onde a mágica acontece. Se vai querer ficar bem familiar com essa interface porque é o principal caminho de usar o Mixxx. Nesse capítulo, nós te apresentamos a interface padrão do Mixxx e descrevemos os seus elementos, botões e deslizantes.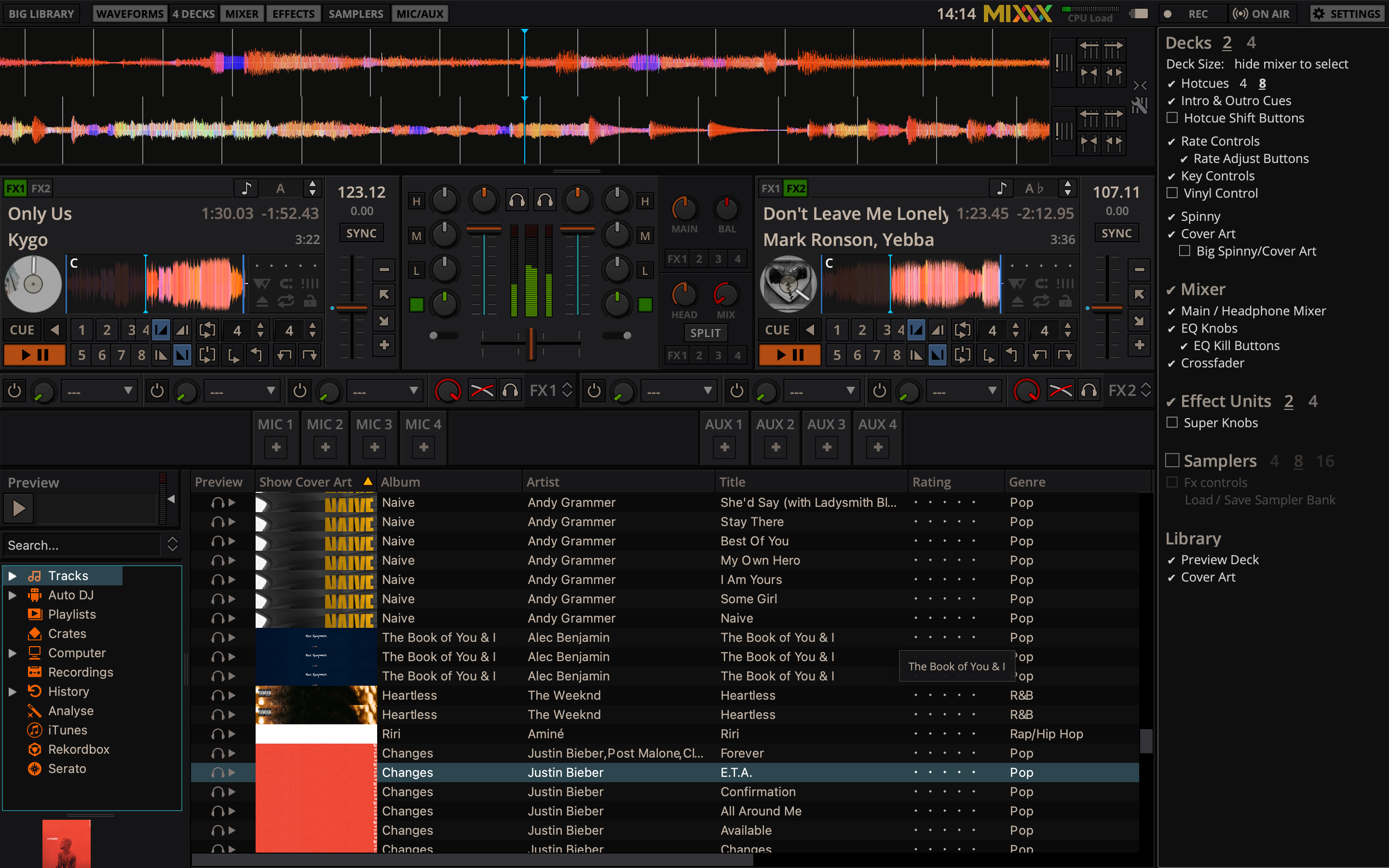 This is the LateNight skin, PaleMoon color theme. It is the default skin supplied with Mixxx 2.3. There are a variety of other skins included with Mixxx. You should explore them all to figure out which one you prefer. This section will focus on LateNight only, though all Mixxx skins provide most of the controls described here.
3.1.

Skin Settings

On top, and on the right side of the user interface are the section expansion buttons and options.
The GUI section quick toggles buttons in the top tool bar
If you click on either WAVEFORMS, 4 DECKS, MIXER, EFFECTS, SAMPLERS or MICS & AUX then you will enable control sections for interacting with:
Você também pode usar os específicos Application shortcuts.
Click the SETTINGS button or gear icon (depending on the skin) to open the skin settings menu. This provides common basic controls as well as some skin-specific options.
The Skin Settings menu on the right
3.2.

Decks

The deck section comes in three sizes: Full, Compact and Mini. You can switch between any of the three sizes by clicking on the Settings button or the gear icon. Under the Decks section, click on "hide mixer to select". This will automatically select the Compact deck (underlined and bolded). If you wish to change to a different deck size, you can choose FULL or Mini.
The mini deck is of a much smaller size and shows only the waveform and the

Mostrador de Informações da Faixa

. You can also use minimal decks with the maximized library.
Dica
Hiding the mixer will by default switch to the compact decks.
A seção do deck permite que você controle tudo que é relacionada ao toca-discos virtual deck. Nós vamos quebrar isso em seções.
3.3.

Mixer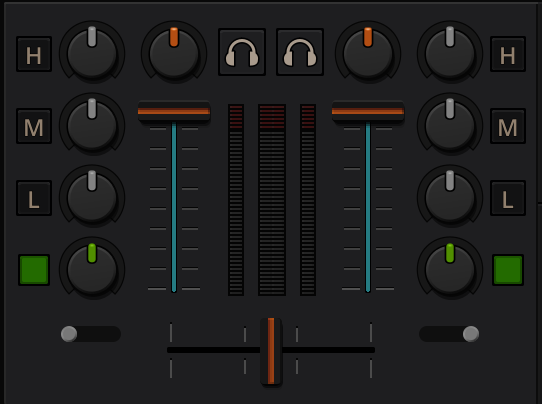 A seção do mixer da interface do usuário do Mixxx permite que você controle como os diferentes decks e samplers são mixados.
Channel Faders and Level Meters
Level meters

The left meter shows the volume level for the left deck, while the right meter shows the volume level for the right deck. The double meter at the center shows the current volume of the main output's left and right channel separately. These should stay at the top of the green region, with the loudest parts of the music (transients) briefly going into the yellow region. They should never be in the red region. Refer to Setting your levels properly (gain staging) for more details.

Deslizantes de linha

The two large faders on either side of the level meters are the deck volume faders, also known as Channel- or Line-faders. Adjusting these controls the volume of each deck.

Dica

Alguns DJs preferem usar os deslizantes de linha ao invés do crossfader para fazer transições entre faixas. Tente isso, você pode gostar.
Equalizadores e Botões de Ganho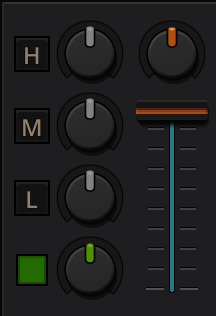 Botão de Ganho

The gain knob (orange) above the volume fader allows you to adjust the gain applied to the deck. Use this to compensate for the differences in recording levels between tracks. In general, you should adjust this knob so that the track's level meter stays around the top of the green region with the loudest parts of the track (the transients) briefly going into the yellow region. Do NOT turn the Gain Knob up so much that the level meter is in the red region. At this point the track is clipping, which sounds bad and could damage equipment.

Nota

By default, Mixxx automatically applies an additional ReplayGain so tracks have approximately equal loudness at unity gain. Your tracks must be analyzed to take advantage of this feature. When an unanalyzed track is loaded, Mixxx calculates its ReplayGain value, but will not apply a newly calculated ReplayGain value to a track after it has already started playing (to avoid a sudden change in the gain of a playing track).

Botões de EQ

The low, mid, and high EQ knobs allow you to change the filters of the audio. This allows you to selectively reduce or boost certain frequency ranges of the audio.

Botões Matar

As caixas pequenas ao lado de cada botão de EQ são chamadas de botões de matar. Segure esses botões para remover totalmente essa extensão de frequência. Clique rapidamente nos botões para manter. Quando ele estiver nesse modo mantendo, clique de novo para restaurar a extensão de frequência. Se os botões matar não funcionam como esperado, verifique as configurações da faixa de EQ nas preferências.

Quick Effect Super knob

This knob lets you control the Meta knob of the deck's Quick Effect. 'Filter' is the default. Right-click this knob to center it. This is equivalent to 'no audible effect' for the built-in filter effects only (Filter, Moog Ladder 4 Filter). The button next to the knob toggles the effect. It provides the same latching capabilities like the EQ Kill switches.
Ver também
Você pode personalizar as configurações de EQ em Preferências ‣ Equalizador.
Crossfader

O crossfader determina o volume real de cada deck ao mover o deslizante da esquerda para a direita. Se ambos os decks estiverem tocando e o crossfader estiver na sua posição padrão central, então você vai ouvir ambas os decks. Clicar com o lado direito no crossfader vai resetar o deslizante para a sua posição padrão
To move the crossfader left or right, you can use the keyboard shortcut G and H. To apply small crossfade left and small crossfade right, the shortcuts are Shift + G and Shift + H respectively.
Você pode inverter a configuração do crossfader, para que o deck da direita seja no final da esquerda do crossfader e vice-versa. Isso também é conhecido como Estilo Hamster. Para ajustar o crossfader para o seu estilo de mixagem, vá para Preferências ‣ Crossfader.
The crossfader orientation switches determine to which side of the crossfader the deck is assigned. It can be set to the left or right side, or to the center where it is unaffected by the crossfader knob.
Dica
Usando a funcionalidade de AutoDJ do Mixxx, você pode automatizar a transição entre faixas.
Headphone and Main Mix Controls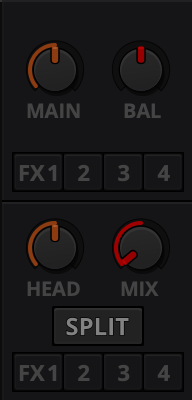 Headphone Mix knob

Allows you to control how much of the Main output you hear in the Headphones output. It works like a crossfader between the stereo Main and stereo PFL signal. If the knob is set to the left, you only hear the PFL signal, which is the usual position for prelistening tracks.

This can be used to practice DJing with only one stereo output and a set of either speakers or headphones.

Additionally, this can be used to mix in headphones when you cannot hear the speakers connected to the main output and there are no booth monitor speakers. Some DJs prefer to use this knob to mix in headphones all the time, but many find it to be a difficult way to play. If there is only one set of speakers and no booth monitors, you can avoid the need to mix in headphones by setting up the speakers behind you so both you and your audience can hear them.

Nota

Não esqueça de ativar o botão PFL no deck que você quer escutar nos seus fones.

Head knob (Headphone gain)

This knob controls the gain applied to the headphone output signal that Mixxx sends to your sound card. Generally, this knob should not be adjusted. To adjust the volume in your headphones, adjust your sound card's gain on the headphone output. Most external sound cards have a gain knob specifically for the headphone jack. If you use an onboard sound card for your headphones, adjust the gain control in your OS mixer program. If your sound card only has one gain knob that controls both the Main output and the headphone output, then adjust the Head knob in Mixxx to control the volume of your headphones without affecting your Main output.

Nota

Not all controls may be present in all skins anymore. However, these controls can be mapped to keyboards and MIDI controllers. See Mixxx Controls for detailed information.

Headphone Split Cue button

If activated, two mono signals are sent to the headphone output instead of one stereo signal. The main signal plays in the right channel, while the cueing signal plays in the left channel. You can still adjust the Head Mix knob to control the mix of the Main and cue signals in the left channel.

Botão de Balanceamento

This knob allows you to adjust the balance (left/right orientation) of the Main output.
Main Knob

The Main Gain Knob controls the gain applied to the Main output signal that Mixxx sends to your sound card, Internet broadcasting servers, and recorded mixes. Generally, this knob should not be adjusted. To change the output volume, a gain control should be adjusted as close to the speakers as possible for the best signal-to-noise ratio throughout your signal chain. Ideally, the volume would only be adjusted by adjusting the gain on the power amplifier. On active speakers, including computer speakers, studio monitors, and PA systems that do not require a separate amplifier, this means adjusting the gain on the speakers (which may be labeled "Volume").

As a DJ, you may not have access to the power amplifier. In that case, adjust the volume by adjusting the gain on the equipment closest to the power amplifier that you have access to. Typically, this is a DJ mixer. If you are not going through a mixer, adjust the gain of your sound card. If your sound card does not have any controls on it (for example, for sound cards built into computers), adjust the sound card settings with your OS mixer program. The Main Gain Knob in Mixxx should be a last resort for adjusting volume.

Aviso

In no case should any part of the signal chain be clipping, indicated by a level meter going into its red region or an LED labeled "clipping" turning on.
3.4.

Samplers


Samplers são decks em miniatura. Eles permitem que você toque amostras curtas e jingles mas também faixas adicionais em sua mixagem. Eles vem com uma visão global das ondas e um número de controles limitados. Todos os controles funcionam como se eles fossem decks normais, veja Decks.
The Sampler section can be hidden in the Mixxx user interface. Click the SAMPLERS button at the top of the user interface, or use the specific Application shortcuts to show or hide the section.
Mostrador de Ondas
Visão Geral das Ondas

O mostrador de ondas mostra vários marcadores na faixa e também as ondas de toda a faixa. Clicar em algum lugar das ondas permite que você pule para uma posição arbitrária na faixa.

Marcadores nas Ondas

Enquanto mixando, alguns marcadores adicionais podem aparecer nas ondas:
Marcador de Posição: Uma linha vertical indica o ponto de reprodução do deck de samples.

Marcador Hotcue: Indica a posição e o número de um ponto hotcue se definido.
Mostrador de Informações da Faixa
Artista/Título da Faixa

O artista e o título da faixa que foi carregado em um deck do sampler é mostrado aqui.

BPM (Tempo)

O número no topo direito é o BPM efetivo da faixa. Toque o BPM para definir o BPM para a velocidade que você estiver tocando
Controles do Deck de Samples
Botão Tocar/Pausar

O clique no botão começa sempre a reprodução do ponto cue. Se a reprodução já está ativada, a posição de reprodução vai pular de volta para o ponto cue. Um clique com o lado direito vai parar a reprodução e vai colocar a posição de reprodução no começo da sample.

Botão Sincronizar

Sincroniza o deck de samples com um deck normal, como descrito em Controles de Sincronização e Pitch.
Clique com o lado esquerdo: Muda a taxa da faixa para que o BPM e a fase da faixa igualem o alvo de sincronização.
Controles de Hotcue

Para pular entre diferentes partes da sample, você pode usar estes botões de hotcues numeradas.

Botão PFL/Fone

Se ativo, o botão pre-fader listen ou PFL permite que você escute à faixa nos seus fones.

Botão de Ganho

Allows you to adjust the gain applied to the track.

Level Meter

Mostra o nivel do sinal e mode ser ajustado com o botão de Ganho

Deslizante de Pitch/Taxa

Esse deslizante permite que você mude a velocidade da sample. Clicar com o lado direito no deslizante vai resetar o tempo para o valor original
3.5.

Effects


Mixxx comes with some built in sound effects that can be chained together in effect units. Effect units can be freely assigned to different decks as well as other inputs. The buttons for routing decks to effect units are in the Decks.
Ver também
The Efeitos chapter has a more detailed explanation of the effects system.
3.6.

Microphones & Auxiliary Inputs

The microphone section is hidden in the default Mixxx user interface. Click the MICS & AUX button at the top of your user interface, or use the specific Application shortcuts to show or hide the section.
Ver também
The Using Microphones chapter has detailed instructions for setting up microphones with various hardware.
Controles de Microfone
Botão Falar

Hold this button and talk to mix the microphone input into the Mixxx Main output. Short click on the button for latching. This is handy for talking for an extended period, for example when streaming a radio show. When in Latch mode, click again to mute the microphone input.

Alternar Orientação da Mixagem

Esse controle determina a orientação da mixagem da entrada do microfone. Para o lado esquerda do crossfader, para o lado direito ou para o centro (padrão). Clicar alterna entre todas as opções.

Medidor do Volume do Microfone

Isso mostra o volume da potência do sinal de entrada do microfone.

Botão de Ganho do Microfone

Use este botão para ajustar o ganho da entrada do microfone. Tente manter o volume em um nível razoável para evitar clipagem.
3.7.

Preview Deck

The Preview Deck is a special deck that allows you to pre-listen to tracks in the headphones before using them in your mix. Pre-listening to a track does not change its Played state as well as the play counter and is not logged in the History. Press CTRL + 4 (Windows/Linux) or CMD + 4 (Mac) to display the Preview Deck.
As funcionalidades em detalhe:
Track Artist/Title: The artist and title of the track is displayed here. This is the same as that listed under the Track and Title column heading in the Mixxx library. This information is initially loaded from the track's metadata.

Eject Track button: Clicking this button ejects the track from the deck.

Play/Pause button: Clicking the button starts and pauses the playback. Right-clicking on the button will stop playback and seek the play position to the beginning of the tracks.

Visão geral das ondas: Mostra os vários marcadores (Cues, Hotcues) na faixa e tamabém o contorno das ondas de toda a faixa. Clicar em qualquer lugar das ondas permite que você pule para uma posição arbitrária na faixa.

Gain slider: Move the slider to adjust the gain of the track.

Volume Meter: Shows the current volume of the track. If it's too loud and distorted, a peak indicator flashes red.